" A GIANT IMPERFECTION"

On Sunday, February 3, 2008, the nation witnessed the greatest upset in Super Bowl history. The second most watched Super Bowl game saw the New York Giants (10-6 during the regular season) and Eli Manning be transformed from underdogs to the princes of New York and Super Bowl XLII champion darlings. What formula of success did they follow? What lone tactic did they execute to go down in history books as the first NFC wild card team to win a Super Bowl while simultaneously robbing Las Vegas of $2.6 million (Can you say all time record?)? Here's a peak into the Giants not so hidden arsenal of gridiron weapons. Patriots, are you listening?
– I Can of Whoop Ass -- It was a 3pt loss to the Patriots 38-35 during the regular season that gave the Giants their road rage, resulting in a wild card playoff bid and three playoff wins against the Bucs, Cowboys and Packers on the road. Yes having a can of whoop ass unleashed on you sometimes does wonders. In the Giants case, it was a good old fashioned ass whupping that gave the Giants their swagger and confidence to go on to become record setting Super Bowl champions.
Eli Eli Manning – America's goofy kid brother seemingly shed his dork status overnight. From stealing Tom Brady's mojo with a 12 play drive of his own to shaking off four or five defenders in a scramble, Eli's antics on the field have gained him an upgrade into the rising quarterback league with the likes of Tony Romo, Ben Roethlishberger and Drew Brees, a Super Bowl ring, an Super Bowl MVP trophy and a horde of advertisers foaming at the mouth. Early in the game, Manning ignited a scoring drive with a 45 yard pass to rookie tight end, Kevin Boss and a perfect end zone strike to David Tyree to seize the lead, 10-7 in the first half. Not bad for an ex-prima donna criticized for poor decision-making and leadership skills.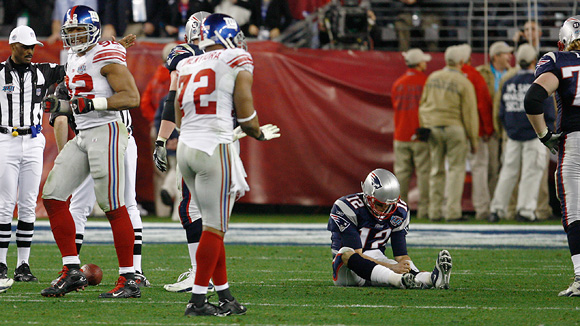 1) Defense – Giants defensive ends, Michael Straham, Justin Tuck and Osi Umenyiora know something about the phrase, "Defense wins championships." The Giants defensive line accomplished what no other team could do all season; Put a lock on the Patriots virtually unbeatable offense, holding them to 81 yards and 7 points in the second half while putting Tom Brady in the pressure cooker (Brady was sacked 5 times. The most sacks Brady received all season).
Giants leave Brady dazed and confused
20 Rookie Class 2007 --Perhaps the most unlikely of heroes, wide receiver Steve Smith (drafted in the second round from Southern California), tight end Kevin Boss (drafted from Western Oregon in the fifth round) and Ahmad Bradshaw (drafted in the seventh round from Marshall). Smith delivered his best performance carrying for 50 yards with five catches, four of which resulted in first downs. Kevin Boss set up New York's first touchdown in the first half with a catch for a 45 yard Giants gain. Bradshaw utilized his speed while Brandon Jacobs tore at the Patriots defensively. Jay Alford, another rookie notable, delivered one of Tom Brady's sacks forcing two ill fated 'Hail Mary' plays that ultimately sealed New England's fate.

Rookies deliver crown for Giants
Whether you take into account the above four factors or you just realize the Patriots just played poorly, the Giants are the thrilla in manila that had 97.5 million viewers glued to their seats. Will they repeat? Probably not, but the 1972 Miami Dolphins team will forever sing their praises as the team that single handedly saved their undefeated record and posed the question 'How will the Patriots be remembered?' in analysts minds nationwide.
Related articles:

The ten things we learned from the Giants Superbowl win
Giants staggering win watched by record 97.5 million
Giants win costs sports book record $2.6 million
Supernatural catch by Tyree one for the ages